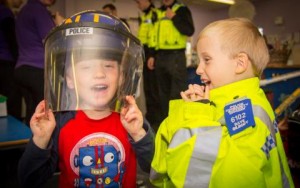 The force was with local youngsters when the police arrived at the Radmoor Nursery this week.
Loughborough Police gave children at the Radmoor Day Nursery the chance to look the part and get hands on with a range of equipment and vehicles – although fortunately they couldn't quite use everything.
Elaine Harper, Deputy Nursery Manager, who arranged the visit said: "We had 19 pre-schoolers hearing from the local police about the different ways they keep people – and animals – safe in our community.
"Children were given the chance to try on the hi-vis jackets, which were huge on them, help to hold a riot shield and there was even a battering ram but fortunately it was heavy so our doors were safe.
"After that the children went outside to see police vehicles including a van and to try out the siren and lights – as well as to climb into the secure holding area at the back, which they really enjoyed.
"There were toy police car prizes for a colouring competition and then every child was given a reflective keyring to hand on their rucksacks to help keep them safe in the dark.
"The police were fantastic at giving the children a great insight into their work in our community – and of course the pre-schoolers were thrilled to have a go at everything. I think one little boy summed it up for all of them when he said, That was awesome."