It was a day highlighting detection and protection for local children when police and first responders from the town visited the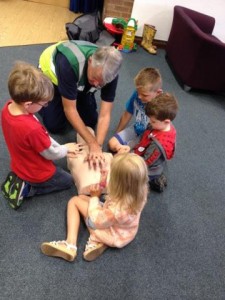 . CSI and CPR were on the agenda as PC Ian Wardle from Leicestershire Police led activities including finger printing and the Loughborough Community Responders and Paramedics passed on vital life-saving skills at the summer club.
Radmoor Holiday Club
Leader Danielle Hill said: "The children loved literally getting their hands dirty, trying out finger printing and had the opportunity to try out police protective clothing and equipment, including handcuffs and truncheons, and to get into the back of the police van. They all had the biggest smiles although they were looking out from behind bars. "Later that day the Loughborough College Elite Sport team joined us to support the children as they watched a role play of someone becoming unwell and which offered them the opportunity to practice CPR on the special mannequins, under guidance from the first responders, and to learn key points to remember in an emergency. "The children were completely mesmerised by the presentations and learning about the work of the police and paramedics and it was clear they really took on board all the valuable information "One child told their parent, when they were collected at the end of the day, 'Don't worry, I will always be able to look after you now. If not, I can shout for help or ask an adult to take over.' Perhaps a paramedic in the making…?" As part of a 'People Who Help Us' theme, the primary school age children have also visited the local fire station and taken part in a den building activity when they constructed everything from police cars to animal care homes. The Radmoor Holiday Club is takes place during all school holidays, apart from Christmas.